New site launched!
Already established as one of the market's top gaming and creative agencies, at MAXCREATE we're back with a brand-new look, complete with a cutting-edge website that speaks to our passion for all things innovative, inventive and original in online casino building.
Our logo, our colour-scheme and our slogan have been revamped to more fully represent our commitment to high-end iGaming design and development services. What hasn't changed? Our motivation to provide eye-catching gaming solutions for even the most complex projects.
Luckily for us, we've already had the chance to put our skills to the test with some high-profile clients. For our latest project, we had the exciting privilege of working with Socios.com - a high-tech e-sport App product that connects fans with the teams they love - to create hand-crafted design services and develop some of the app's very first features. The team at Socios.com share our passion for innovation, creativity and high-quality compositions. From start to finish, we were thrilled to be part of such an ambitious enterprise.
Among the new services available, our best seller is the pre-built casino package. Tried and tested to perfection, these solutions are popular for a reason. Combining the highest quality with lower costs, these striking-white label casinos will be ready to hit the market in record time. To ensure as efficient an experience as possible, each solution includes a powerful CMS tool to allow for frictionless maintenance, along with intuitive interfaces, easy-to-use deposit options and advanced search filters.
For those looking to build something from the ground up, our new turnkey solutions allow for customizable site-building on any casino platform. Utilizing our knowledge of JS-based technologies specifically Node.JS and React.JS, our MAXCREATE team will fashion premium, scalable, made-to-measure solutions that are also fully compliant with gaming licenses of your choice. This package comes with a handcrafted design and a specially assigned team to ensure every detail is functioning perfectly.
Our talents don't end there, however. We also have several bespoke services available. Our multiskilled team are ready to work on mobile app design, creative branding, character design, UI/UX design and custom development. In an increasingly busy market, brands need to do more to stand out from the crowd. These bespoke services allow companies to curate their development experiences and achieve that singular wow-factor. Tailor-made to fit specific requirements, every single one of these featured services is overseen with utmost care and creativity.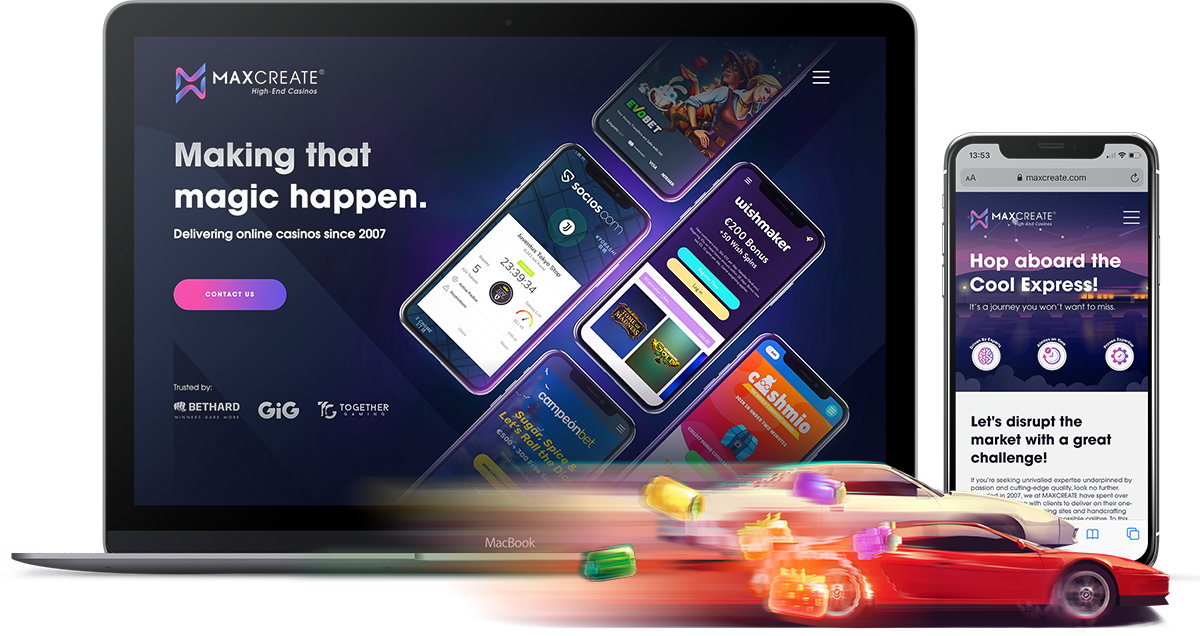 ABOUT MAXCREATE
MAXCREATE is consistently recognized among the top gaming creative & design agencies offering bold high impact user-centric online casino solutions & bespoke services. With projects such as CashMio.com, WishMaker.com, and Socios.com, MAXCREATE is paving the way for the future of online casino gaming and e-sports entertainment.
For more information, please visit us at maxcreate.com.
More
Wicked
News From
MaxCreate